A trip through Canadas west, September 2008
Totem pole at the Orford River Estuary in the Bute Inlet, BC

For this years vacation, we went for a trip through the west of Canada, to have a closer look to British Columbia and Alberta, their First Nations history and the railroads there.

The general idea for the itinerary was to first follow the tourist attractions from Calgary northwest through the Rocky Mountain parks and then on to the coast of the Pacific ocean on the road to Prince Rupert just south of the Alaskan border, using a hire car. From Prince Rupert, a BC Ferry should take us south through the famous Inside Passage to the northern tip of the Vancouver Island and finally on to Vancouver.

The second half of our vacation trip should be more dedicated to train riding and the railroads of Canada, especially the lines of the Canadian Pacific Railroad.

Although we have five weeks for the whole trip we realize that we will have only little time to spend at each location, and have to carefully select just a few. But we still avoid to stay at one place for just one single night, if this seems reasonable.
---
Sunday, 2008-08-31, flight to from Zuerich to Calgary
Already in the plane a first encounter with what seems todays 'average americans', using two seats and having to ask for an extension to their seat belts to survive takeoff ;-). The Air Canada flight is (save and quiet and boring as flights are).
Upon arrival in Calgary we can choose from a variety of hire cars, we decide for a brand new Ford Fusion. The car has a 6 cylinder limousine, a good recommendation of the friendly staff at the 'National' office, the car looks very European (and this is from a design standpoint definitely an advantage), and is comfortable and easy to handle.
The drive to Banff turns out to be the first lesson in survival in a foreign country, we seem to take every possible wrong lane or exit from Canadas Highway 1. Finally we decide on a west-north-west-north-west-north principle following the electronic compass in our car, with the result of finding back to Highway 1 way west of Calgary.
From here it was easy, really easy to find the Caribou Lodge in Banff.
---
Monday, 1.9.2008 Banff

Leisurely drive along the Bow River Parkway to Lake Louise, where we have tea at the old railway station, which looks like a very good restaurant today in a magnificent station building, preserved in it's 1920 origial state. We watch two passing freigt trains at the station.

Later we drive the short distance uphill to the Moraine Lake, and hike along the lake shore. However, with the cloudy weather today, much of the beauty of this beautiful lake remains hidden.

Also a first impression from Banff town is very positive: no parking fees anywhere, no police around, everybody drives relaxed, and Banff already has the Christmas illumination on – in earlySeptember ...

We have to stop our car for some time to let a group of mule deer cross the road (and they sure take their time do do this), and learn that it's true that you alway have to watch out for wildlife here.
---
Tuesday, 2.9.2008 Lake Louise

Early start today at 6 o'clock for a drive at dawn along Bow River parkway, hoping to see wildlife – of course we see nothing apart from some crows and squirrels.

We are too early for hiking, and decide to wait for a passing train at Morants Curve. It was freezing cold, we have to wait in the car, but finally can take some pictures of two freight trains. As it continues to be freezing cold, we decide to go somwhere for a hefty breakfast and to warm up first.

Finally we start our hike at eleven only, up the steep path to the Lake Agnes Tea House. I do not think that we'd have made that hike on a cold day like this without the promise of a Tea House at the end of the trail. Luckily it was open, so we got our tea, and an amazing show of squirrels stealing peoples cookies from their plates. The last stretch of way to the lake is walking on a fine layer of fresh, smelly horseshit. You cannot get lost here – as long as there is this evil smell in your nose, you are on the right trail.
---
Wednesday, 2008-09-03, Banff, Johnston Canon

Poor weather report again for today, we decide to sleep in, and then try the hike in the Johnston Canon, which leads into the Bow River about 25km north of Banff. As we arrive at the trailhead, the sun comes out and and makes for a convenient and not too hot hike.

The upper half of the 15 kilometer return hike is a steep climb, and is just about what we can do, and so we get back tired enough to just stay at the hotel for dinner (but still, only after a walk into town in a heavy evening rain shower).

Squirrels are along today too ...
---
Thursday, 2008-09-04, Banff to Jasper, the Icefields Parkway

Not too early start today in cloudy conditions, planned breakfast underway at Lake Louise. Our favourite place, the old railway station building, is not open yet, so we have to look for a substitute in the area. This is a foggy morning, but the sun comes out round eleven. But then, cumulus clouds start covering up the mountain peaks so that we cannot take that postcard picture of the Lake Louise again.

Mountain vistas, lakes (like the Bow Lake here) and river landscapes alternate with beautiful mountain and glaciers.
We resist the temptation to go onto the Columbia icefield as this will be on the program later on the trip.

We continue north on the Icefields Parkway, stopping many times to take pictures of the just incredible landscape both sides of the road, like the North Sascatchewan river here.
---
Arriving in Jasper town, the first thing we see is the arrival of the westbound 'Canadian' train from Edmonton bound for Vancouver - more than two hours late here already - and the on-time arrival of the eastbound 'Skeena' train from Prince George to Jasper at the same time. It's time for some first Canadian railroad pictures.

The train stops for a while in Jasper for servicing, people get off the train, a team of women carefully cleans all windows, a man with a special vehicle cleans the dome car windows, baggage is offloaded. This is also the first time in Canada i get booted from a foto location.
I hope this will not happen too often ...

We stay at the Jasper Inn, which surprises us with a cozy suite (we had booked just a standard double) and a first class restaurant with a very elaborate cuisine. A highly recommended place to stay.
---
Towards noon, it started to look brighter to the west, so we tried chasing trains over the CN Yellowhead pass route.

More difficult than we thought a first, because there are very little areas where one can park a car along that road near good photo spots. There is an oil pipeline construction site all along the rails from Yellowhead pass down to everywhere where it's scenic. I get booted out several times (private road, too dangerous ...).

Fr, 5.9.2008 Jasper, driving tour over Yellowhead pass to Valemount BC

The weather report for today sounds far from promising, we decide to sleep late into the morning again. We go back to that small strip of wood at the very west of the Jasper station where we have seen mule deer the previous days. Surprisigly we find some deer there, and walking slowly and quietly from tree to tree, i can herd the deer just in a clearing toward the rails.

I can make the title photo for this Canada web album, as a freight train passes eastbound very slowly. When a red tank car with a big 'Canada' painted on it's side was just in the background, that made my title photo.
---
Sa, 6.9.2008 Jasper

Damp gray skies again, we decide to have a look along Lake Maligne road, for wildlife. It clears up by eleven, of course too late for wildlife viewing, but we still can see some elks grazing just outside the Jasper townsite, but too far away for photos.

We hike the Maligne Canjon, which is a very beautiful walk, but real canjon feeling never comes up, the trail is always and only above the canjon, and fences and cages give you the feeling of being in a high security prison. Not one of the things not to be missed here...

Maligne Lake is indeed a very beautiful place, the view of the Mountains is covered by clouds. As the weather report promises warmer temperatures for the coming two days we decide to try again tomorrow and do a boat tour on the lake then, but start a lot earlier than we did today.

On the way back, we spot an elk family just south of the highway near the Jasper train station. A heavy bull with real big antlers watches over a herd of four females and two calves. I take my photos from a respectful distance.

We try the Jasper Inn Restaurant again today, for a divine starter of smoked tuna fish and salmon on salad and toast, and fine rib eye steak, accompanied by a splendid 'Mission Hill Reserve' Pinot Grigio white wine out of the barmans private cache (sometimes it pays to talk to people).
---
So, 7.9.2008 Jasper

Plan to get out of bed early today, to look for deer and trains again, and later drive up to Maligne Lake again. Let's see ...

Rained all night, also in the morning, so an early start is not on, we enjoy an extensive breakfast, before we go looking for deer along the Athabasca river valley – but no success here.

Towards midday, it clears up slowly, so that we decide to drive up the Maligne river valley and look for wildlife there. We are lucky indeed and find a lone elk walking along the road, a magnificent bull with great big antlers.

It's also Sunday, and Lake Maligne seems crowded, so we decide to return tomorrow, when the weather will have stabilized further, and take the boat to Spirit Island and do some rowing on the lake. We drive to Lake Annette for an easy walk around this lake. This is the first day of our holidays that promises an evening with warm sunlight and no heavy shower, we want to enjoy it.

Later we stroll along the towns main street, doing some shopping, some railroad photographynear the Jasper station, and some drinking at a mainstreet bar.

A superb dinner again at the Jasper Inn, accompanied by the barmans recommendation of one Californian white wine, a 'Conundrum' blend of Chardonnay, Viognier, Pinot Grigio and something more that i cannot remember.
---
Monday, 2008-09-08, Jasper, Lake Maligne

The weather forecast promised drier conditions for today. Maybe we will have a sunny morning, the first in our holidays, let's see. Wer get windy weather today, and cirrus and lenticularis clouds above, bringing blueish and rapidly changing light conditions for the whole day.

We start with a leisurely two hour hike around the Moose Lake loop, a very peaceful little lake a bit hidden in the woody hills just west of where the Maligne road ends. We see Ruth climbing over dead wood, showing that the trail around the Moose Lake is left very natural and very beautiful.

Moose Lake / Jasper

We find a Wapiti deer family on the way home along the high way south of Jasper.

I seem to get too near to the patriarch of the elk family with the camera, the bull starts to look angry at me, my pulse up high again, but i back up quick enough to make him comfortale again.

We have dinner at a Cantonese restaurant in town, where the chinese owner turns out to have lived at Fribourg in Switzerland for several years, and spoke french and german and wished us goodnight with an unexpected familiar 'Guetenabig mitenand'.

The Wapiti deer family has seemingly decided to have awalk in town too. On the way home we meet the whole elk family slowly walking along Jasper's main street, grazing wherever there was a grass spot. The bull walked as last, occasionally giving sound, keeping a close eye on the rest of the family. An amazing scene.

Lake Maligne / Jasper

We still want to do the Maligne Lake boat trip. The boat that will take us there is let into the water with a vintage truck only minutes before our tour starts. The scenery all the way south to the Spirit Island is just magnificent.

But this excursion is much too short and much too expensive. On the other hand, i learn that we cruise on a drown-proof lake. The water is only 4 degrees (32 degrees Fahrenheit), so that you would freeze before you drown – comforting knowledge.

Spirit Island / Lake Maligne
---
Tuesday, 9.9.2008, drive Jasper to Prince George

We start the 350 km drive in quite good weather, the drive through the scenic landscape west of Jasper over Yellowhead Pass is smooth and quick, few occasions to stop though. We stop for picnic by a lovely river bend 'somwhere' along. A handful of Admiral butterflies flew around our picnic table all the time, finally we left some of our orange juice for them, because we couldn't decide wether they were wild animals one should not feed. The juice was appreciated, therefore no bad conscience.

We can see the Skeena train going west, and also some coal trains. As mentioned before, there are not many spots where one can park a car, and some of them are occupied by the pipeline building people. We drive past the Mount Robson park in a shower with the mountain being hidden, we hope to see it on the way back.

We roll into Prince George just one hour before the Railway and Forestry Museum closes. They have an amazing collection of rolling stock and machinery, like this Jordan Spreader here (used in winter to remove snow from the rails, and to make the cleared area wide enough so that wildlife does not get trappred and killed by trains) or this unique wooden snowplough.

They really have a wealth of exhibits, most of them outside exposed to the weather. But still, this is truly a place not to be missed for anyone interested in the logging or railroading industy of the past.

Overnight at the Coast Inn, a clean business hotel, with a fine Japanese restaurant.
---
Wednesday, 10.9.2008 Prince George to Smithers
We leave early today and drive this part of the road in beautiful weather, but do no see too much to take pictures of along the Highway 16 West, Fraser and Burns Lakes might be worth a stop – but that is almost Smithers and we continue.
We are booked into the 'Glacier View B&B' in Smithers BC, with Carla and Jensen Goltz as our hosts. A truly magnificent log home a bit outside of Smithers, where the hosts show us dozens of tours and expeditions that can be made out of Smithers – credibly, because their main business is to run exactly these tours with their guests. The best season to visit and see animals seems to be May – with reported sightings of dozens of Black and Grizzly bears and moose.
I hope i can join one of their tours in this life - thank you Carla and Jensen.
---
Prince Rupert has a number of historic buildings still in use, like this hostel here on the right. And the best thing Prince Rupert has for us today, it has some sunshine, to save our day.

We visit the Museum of Northern British Columbia Columbia to learn about the history and culture of this region, and then quickly proceed to the Kwinitsa Railway Station Museum. The small railway station building has been transported by road (a spectacular transport documented in the museum) from it's original location on Canada's northern railroad to Prince Rupert to serve as a museum, and now portrays the development of Prince Rupert from a tent town at the end of the GTP (Grand Trunk Pacific Railway) and gives a very descriptive presentation of the life of the people who had helped build communication and traffic routes into the northwest of Canada – this is something absolutely not to be missed for railroad buffs.
There is no rolling stock on display here, but very interesting explanations of how things worked and how things were handled, for instance signalling on the railroad, without radio or cell phone available, what produce were available for cooking, what life was in a lonely section house etc.
It is not a place from where you bring spectacular photos home, but we have spent a lot more time in this museum than in many others - definitely one not to be missed when in town.

Thursday, 11.9.2008 Smithers to Prince Rupert

Heavy rain today for a change, heavy rain from Smithers all the way down to Prince Rupert. It 's supposed to be one of the best scenic drives in entire Canada, but we see only the nearest trees and lots of fog and rain. At least we are lucky enough to arrive at Rupert without accident.

Along the way, we stop in historic Hazelton to have a look around town, and admire some exhibits of the times when sternwheelers were the public transport and the logging industry was the employer for many families. Like this old "Humbolt" steam donkey here on the right, a small mobile 2-cylinder steam engine (still weighs 20 tons) was used to pull logs (felled trees) around in the woods.

With all this rain, we don't feel like going for long walks in Old Hazelton, and decide we try our luck, drive on and go and see the railway museum in Prince Rupert. We also want to go to the ferry terminal just to be able to remember the way, as we expect a foggy morning and do not want to miss the boat.

We have dinner tonight at the 'rain' lounge, a place recommended for their fresh fish and seafood cuisine, a very good choice, their halibut dinner is excellent (almost anything tastes good with a glass of Canadian wine, but this place really deserves a recommendation).
---
Friday, 12.9.2008 Prince Rupert to Port Hardy – the Inside Passage

A very early start today, we have to report to the Ferry terminal at 05:15. On the Inside Passage ferry going north to south, the most scenic parts of the trip are to the north and can be seen in daylight.
Incredible, but we have a cloudless and starry sky when we wake up - no fog, no raining cats and dogs like yesterday. We board the 'Northern Adveture', park the car, and get up the stairs directly to the ferry's cafeteria for a much needed hot coffee and some breakfast.

Thick fogs come up and accompany us for about the first two hour of the cruise, covering everything in the distance in a mythical haze. I'm glad that i have packed gloves, holding a camera in these conditions makes quite cold fingers.

Then the sun comes out and burns the fog away, and it starts to warm up. The calm waters allow for absolutely amazing light effects on the boats tail waves, and the foggy morning just looks phenomenal.

The Grenville Channel, about 70 km long, is a true highlight of this trip - how can a ferry cruise at this speed in such a narrow channel, one really has the impression one can touch the mountains to the left or to the right. Lazy hours on deck as the light gets hard and blue and not suitable for photography around noon and early afternoon. Time for something from the grill on the sun deck and a nap.

After four o'clock, we are back on the sun deck with the cameras ready, looking out for whales. We can see an amazing amount of them during the next three hours, all of them in a distance too far to make descent pictures, but still, by the end of the cruise there must have been over three dozen of whales that we were able to see surfacing – i wish i could go again.

The last three hours are already in darkness, we will arrive by 11pm.

Overnight at the Port Hardy Inn, centrally located at the villlage entrance so that not even i could fail to find their big neon sign in a foggy night.
---
Saturday, 13.9.2008 Port Hardy to Campbell River

We drive south on highway 19, on Vancouver Island.
Past Port McNeill we stop at the Englewood forestry pulp mill, take a look at their logging railroad equipment, go for a short visit to Telegraph Cove, then drive straight down to Campbell River.

We first go to explore the downton areas, the public fishing pier, the float plane center and check by our bear viewing tours company about tomorrows excursion.
I find out that i have left the documents about them at home - we have to check by the visitor enter to find out who they might be and where to find them.
With the help of the VIC we finally find them in their small and unique floathouse.
---
Sunday, 14.9.2008, Bute Inlet Estuary

Grizzly bear viewing excursion ahead, in great cloudless weather conditions. A catamaran motor boat takes us out to the Bute Inlet Estuary. It is a two hour boat ride at a speed of 30 knots, the twin Volvo diesels throw a prominent rooster tail behind the boat, something i see for the first time. The ride past all the islands north of Campbell River is already worth the effort.

Grizzly footprints ... this estuary claims to be home of the largest Grizzly population in British Columbia.

Bute Inlet is a deep fjord located at the northern end of the Strait of Georgia, the Inlet is 75 km long, with an average width of 3.7 km (says one local web site). The area is the traditional home of the Homalco Band of the Coast Salish people. In the estuary of the Orford River, salmon attract the grizzlies living in the area to come down to the river for fishing.

However, the day seems to bee too warm for the bears, although we can see some of them Grizzlies sneaking up and down the river bed and also we can see countless chum salmons in the water none of the bears seems to feel like going fishing.

And later in the day they all seem to have retired to have a nap – bad luck for us, we do not get really near any of them.

On the way home our captain decides to detour and cruise through the tidal rapids around Quadra Island, standing waves and maelstroms formed by fast tidal flow of water and rock formation just little under the water surface, a wild ride at full speed of the cat, too wild to hold a video cam still enough to produce any useable pictures.
---
Monday, 15.9.2008 Campbell River

Whale watching ahead today, again in very good weather, even warmer than yesterday. We start the trip on a Zodiac type boat, equipped with two 2.5 litre 6 cylinder outboard engines, designed to take curve changes from plus 45 degree bank to minus 45 degrees bank in just two seconds. This is better than any motorbike.

As this is the end of te whale watching season,we expceted to see little, but we actually saw nothing at all – not one single fish. We have cover as much of the area that a fast boat can cover (ours made max32 knots, thatis over 50 km/h). The whales leave this area in autumn, and return in spring. Two days ago on the ferry from Prince Rupert to Port Hardy (that is a few hundred kilometers north) we have seen more than two dozen whales.

On the positive side, we see our first little black bear digging sand for something to eat on one of the island beaches.

We enjoy the magnificent boat ride, and enjoy especially the wild ride in the tidal rapids, where we go again, but this time in a boat that is far better suited for this of near-white-water action.

We conclude our stay in Campbell River with a fine dinner at the Painter's Lodge. We recommend this place to anyone visiting Campbell River, it is a really top class place to stay, not the cheapest place but certainely worth it.
---

Tuesday, 16.9.2008, Campbell River to Vancouver
Today we have to drive to Vancouver. We will visit some other places on Vancouver Island later during the coming railway trip days, therefore we just drive along the oceanfront drive south, get lost temporarily in the area of Comox, but can catch the 12:55 ferry from Nanaimo to Horseshoe Bay north of Vancouver.
At first sight, driving in Vancouver downtown is a nightmare, a combination of one-way streets and no-left-turn and sometimes also no-right-turn rules make it a real quest to find a certain address – like the one where we have to drop our car at exactly 15:15. We finally arrive there towards five o'clock, after a two hour odysee in inner downtown. Walking home to our hotel lasts just twenty minutes, a lot less than by car. The city feels smaller once we are walking and not driving.
We go to the 'Tropika', a Malayan restaurant on Robson street for a fine dinner (thanks to a hint in the Lonely Planet book).
---
Friday, 2008-09-19, Vancouver to Whistler

Today we ride the Whistler Mountaineer train from Vancouver to Whistler.

We drive by bus to the station of the Whistler Mountaineer in North Vancouver in early mourning fog. The luxury train leaves on time and rolls north along the very scenic valley towards Whistler.

In Whistler, we use the gondola to ride up to the top of the Whistler mountain and hike around there for a while.

Transfer by Greyhound bus to Squamish to the Mountain Retreat hotel there, sort of a large motel, but with an excellent restaurant, a very good choice for just one night.
---
Saturday, 20.9.2008, Squamish Steamfest, on to Vancouver Island

We can sleep late today, then go to the West Coast Railway Heritage Park here in Squamish where the West Coast Railway Association celebrates a Steamfest.

There are a number of attractions under steam, the main attraction being their beautiful 'Royal Hudson' steam engine fired up and pulling a train of passenger cars from the sixties.

But also a steam powered car and steam tractors were fired up along with some vintage cars and a number of other attractions.

We have a vintage motorcoach for the short trip to the Ferry terminal at Horseshoe Bay, and board the 15:10 ferry to Nanaimo.
From there, we have another coach for the one hour transfer to Parksville.

Overnight at the Quality Inn right on Parksvilles beach.
---
Sunday, 2008-09-21, Port Alberni, then Courtenay to Victoria

Short drive in the morning from Parksville over to Port Alberni, for the visit of the McLean Saw Mill.
The mill was built in the 1920es and as they said pretty much unchanged since then. The mill is powered by one steam engine and just has some electric light added since the time when it has been built. The mill produces raw lumber, and is specializing on lumber with oversize lengths.

The mill owns also the Alberni Pacific Railway, which was used to bring the logs to the mill and the lumber back to town.

We get a ride behind their steam engine from the mill to the Port Alberni Railway station after the visit.

Later,we drive to Courtenay to take the 'Malahat' train south to Victoria. This is a Budd RDC diesel railcar,the line is mostly a 'green tunnel' with little outlook to the scenery.

Arrival in Victoria is spectacular, as the have already all of their Christmas illumination on.
---
Monday, 22.9.2008, Victoria, Butchart Gardens

From their website: Jennie Butchart began to shape this magnificent landscape in 1904. She established, in the style of the grand estates of the period, several distinct gardens to evoke a range of aesthetic experiences. An abandoned limestone quarry was transformed into the dramatic Sunken Garden, a reflection of the early 20th-century beautification movement and an exceptional achievement in Canadian gardening history. Through successive generations of the Butchart family, The Gardens has retained much of its original design, and continues the Victorian tradition of seasonally changing the outstanding floral displays.

From me: this is not exaggerated at all, this place is just marvellous.
Not overcrowded at the time of our visit, but said to be really overrun at peak tourist season.

We spen the afternoon visiting the BC Museum, where we stayed too long to visit any of the other must-sees.
---
Tuesday, 23.9.2008, Train from Vancouver to Edmonton
Today we take the Ferry from Victoria to Tsawwassen, then the Bus to Vancouver, the SkyTrain ride to the Vancouvers Waterfront Station, the SeaTrain to North Vancouver (just for fun) and back to the Pacific Central Station in Vancouver.
We board the eastbound 'Canadian' train. It is the first time for us on a North American first class train. We are welcomed by our porter, who will care for us and our twin bedroom, we enjoy free Champagne as a welcome drink in the dome car. The meals in the restaurant car are just delicious (and they are included in the ticket price). This is a very, very pleasant way to travel, and can only be recommended to anyone who can afford the time it takes (from Vancouver to Edmonton it is just 24 hours by train).
It is fascinating to travel east, up towards the Rockies, seeing these mountains come closer and closer, top is the view of Mt. Robson , rolling over Yellow Head Pass into Jasper, and seeing the mountains disappear into the distance as we roll farther east towards Edmonton.
The train pulls into Edmonton Station, which sits at the end of a spur line off the main line to the east (quite unusual, but it is a surprisingly small station for a city the size of Edmonton, it seems nobody uses trains here around).
Overnight at the West Edmonton Mall Inn, a new motel just next to the Edmonton Mall. The motel has no restaurant, everyone goes next door to the Mall for dinner, it is really a very large shopping center and probably takes days to explore.
---
Thursday, 25.9.2008, Edmonton

Today we visit the Fort Edmonton Park, with an introduction to the park's steam train cars by their chief engineer. We get the full story about the changes that were made to some of the cars to be shown in the movie 'The assassination of Jesse James' starring Brad Pitt.

Later we visit the Alberta Railroad Museum
---
Friday, 26.9.2008, Visit to the Alberta Prairie Railway in Stettler

The Alberta Prairie steam train is ready for it's fall colors special excursion today. Nearly 400 passengers wait on the platform at the station in Stettler, old people, school children, and our handful of railroad fans. Wandering around the station area to take pictures, friendly railroaders invite me into their caboose for a ride back to the station. My first caboose ride!

The presence of the law gives a first hint that this trip crosses an area that is haunted by train robbers. The first few kilometers of the 42 miles over the flat prairie land to Big Valley are quiet, children play in their own Lego toys covered passenger coach, the bar car plays live music, and railfans sneak around trying to get good pictures.

The town of Big Valley features many museum buildings and heritage structures. The most prominent one is a grain elevator. There are many sites on the net that explain how a grain elevator works. They seem to be disapearing fast, so enjoy pictures of them as long as they are still there.

A fine lunch was served in Big Valleys Jubilee House for all train passengers, before returning to Stettler. Alberta Prairie RRis operated as a tourist railway all year round, and operates without volunteers, all staff are employees. A big thanks to all train staff, this trip is great fun for everybody, and really good for the railroad fan.

We ride south, by bus, to Drumheller, where we stay for the night. Drumheller is a quite charming little town, we have plenty of time to stroll through the city center. Dinosaurs of all sizes and colours are present all over the city, the nearby Royal Tyrrell museum seems to throw its shadows.

The quiet changes when the train suddenly stops and sounds of revolver shots cut throug the air. We are target of a train robbery - train robbers on horses rush along the train in full gallop, gunners enter the train, we are forced to deliver all money.

Alberta Prairie Railroad promises that all money that the sheriff can recover will be donated to a children's hospital nearby, and luckily the sheriff wins finally and can get all of the money back. A great show, and part of it almost too realistic - at least the sound of the shots.
---
Saturday, 27.9.2008, Calgary
We visit the Royal Tyrrell Museum in Drumheller this morning. Drumheller is set in the Alberta badlands, the Museum has most remarkable fossil displays. For us as 'just visitors' it is a very pleasant surprise to visit this place and it's unique displays of wildlife in different ages of time. Their dino displays are just phantastic, and the your own knowledge just gets updated by some million years in just a few hours. I'd recommend this museum to anyone visitig in the area, it is definitively worth a detour, as is the town of Drumheller.
We continue to Calgary, and drive straight to the Calgary Heritage Park, where the 'Railway Days', sponsored by the CP (Canadian Pacific Railway), attract lots of people.Two 2-6-0 switchers pull a passenger train and a freight train around a loop.
There is a sternwheeler for short cruises on the bow river (a rebuilt one, the original was justdouble as long).This park is an absolute must for anyone interested in how life looked hundred years ago.
Overnight at the Fairmont Palliser Hotel in Calgary, dinner at the M.T. Tucker restaurant in Calgary.
---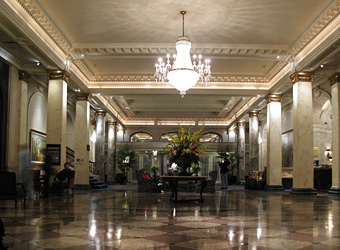 Sunday, 28.9.2008, Calgary to Lake Louise
The Fairmont Palliser Hotel is just next to the CPR tracks through Calgary. We board our steam train through the special pavillion that leadsfrom the hotel to the tracks and steam west only few minutes later.
We ride in an classic Budd Superdome car of the US Milwaukee Road's Hiawatha Luxury train.
No photo runby enroute, only at Banff station there is one, with lots of spectators in the way all the time. Runbys should be made only in terrain that is not accessible by road.
Overnight at the Post Hotel in Lake Louise, unquestionably the finest hotel we had on our trip so far.
---
Monday, 29.9.2008, Lake Louise

A coach tour to the Icefields Parkway, on a truly gorgeous day. However, the timing of the tour is really stupid. We start the tour at least two hours too late, and then zoom past every usable location for photos in the morning light (and that is why you go there), and stop in these places on the way back, when everything is in shadows. No useable photos today.

Columbia Glacier is very beautiful to look at. Snow coaches are used to bring people right onto the lower part of the glacier (mainly busloads of Japanese). Standing on Columbia Glacier is not any different than standing on a snow covered football field. And it is still too far away from the interesting looking icefalls, so another tourist ripoff without any additional value. To be avoided at all cost.

The drive however is a must, start in Lake Louise is 8 o'clock the latest. All good photo places are on the left side when driving north. Some, but only some, are useable places in the afternoon.

Overnight and dinner at the Post Hotel in Lake Louise again. Their restaurant is highly recommended (again).
---
Tuesday, 30.9.2008, Lake Louise to Revelstoke

A cloudless and very cold morning today, with the sun just up above the mountains and at just the right angle to the spur line where our train is parked, make for the perfect conditions to photograph a false start of our train into the station of Lake Louise.
The engineer opens all available steam valves for a really impressive steam show.

With a short hour delay, we run uphill towards the Kicking Horse Pass. This is one of the most spectacular landscapes we have ever been in, and to see this from a steam train is just dazzling.

We arrive in Revelstoke just as it is getting dark, we try to take some pictures of the outside displays at the Revelstoke Railway Museum first and then visit the Museum itself.

Overnight and dinner in the Regent Inn in Revelstoke, a place we can recommend.
---
Wednesday, 1.10.2008, Revelstoke to Kamloops

A lot warmer today, the move of the train down to the station does not show the same spectacular steam clouds as yesterday, but still.

On the rather short trip to Kaamloops we get nearly four hours delay, so that instead of arriving there by 2 o'clock and exploring the town we get in by six, and have to rush to the hotel tomake it to the train station to board the Spirit of Kamloops tourist train for a short ride from the CPR (Canadian Pacific RR) tracks to the other side of the South Thompson River to the CN tracks (Canadian National, former Canadian Northern).

Overnight at the Executive Inn in Kamloops, dinner at the Keg Restaurant in the Station Plaza building.
---
Thursday, 2.10.2008, Kamloops to Vancouver
This is a long distance to cover today, and with the experience of the many delays yesterday it is decided that we start one hour earlier than planned.
And we really do get out of Kamloops an hour earlier.
Overnight and dinner at the Waterfront Fairmont hotel in Vancouver.
---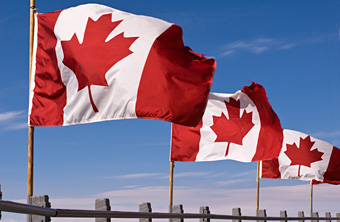 All in all, it has been a truly wonderful trip, a very pleasant visit to Canadas west, wonderful train experiences, wonderful landscapes, fine food and very fine wines too.
We think that we will be back to Canada. Soon.
last editied: 16.01.2009