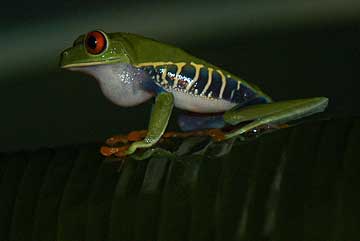 We had some difficulty this year finding time for our holidays. We finally had to take a few weeks off in October and decided to visit Cost Rica.

The trip unfortuneatly turned out to be a big waste of time and money. Several tropical storms (Wilma, Stan and Beta) in the Carribean sent a continuous flow of very wet clouds over the area from Venezuela up to mid Mexico. This resulted in more or less continuous heavy rain for all except about three days of our trip. On many days it was simply not possible to do anything more sensible than hang around the hotel bar (which was sometimes fun, but not really was why we came here).


Costa Rica is a country of extreme natural beauty, and it is very easy to travel there. Unlike all the other countries in the Americas we have been so far, almost everyone speaks English in Costa Rica. My (very modest) knowledge of Spanish made some things easier, but we were very grateful every time we met someone we could speak English to. That way i was even able to fight off a ticket for speeding, it was a long, long discussion in partly Spanish, partly English. I really esteemed the friendly and factual atmosphere those police men maintained. I'd like to see more of this in my own country.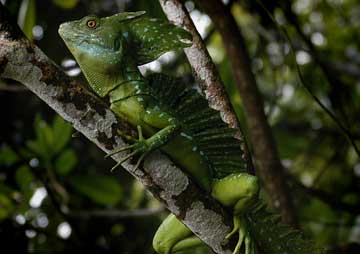 For this trip, we had planned to follow the standard tourist routes from San Jose across the mountains, taking the Volcan Poas route, to La Fortuna to see Volcan Arenal in action at night. Here we were lucky, it was one of the cloudless nights and seeing a volcano spitting out lava is truly spectacular. From La Fortuna we drove around the Laguna Arenal and up the bumpy gravel road to the Monte Verde reserve. We were glad we had a four wheel driven car, but on the other hand, compared to the roads we had met in Patagonia on our former trip, this one was a bit bumpy but otherwise safe. Monte Verde Area unfortuneately looks more or less like Disneyland today, so we recommend to not go there at all, or, if you must, go for a few of days only.
From Monte Verde, we then tried (unsuccessfully, due to a flooded bridge) to go to the Rincon de la Vieja park. After a night in a lodge on the 'good' side of the bridge, we tried again, bridge was still under water, so we continued down the Pacific coast towards Tarcoles, to see the Carara park there. But this part of our trip is not worth mentioning at all.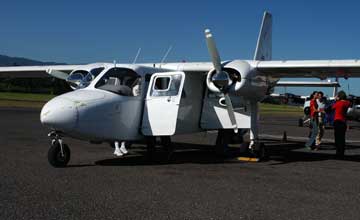 Some rainy days later, with no pictures worth showing, we returned to San Jose and went on to the Carribean coast, to the Tortuguero reserve, We had good weather on the way out tere, and good weather on the way back. The days in between were rain, nothing but rain. This made it nearly impossible to see any animals, and more or less confined us to the bar. We flew back to San Jose in this very special 8 seater plane, and then back home (glad to finally get out of this more or less flooded area).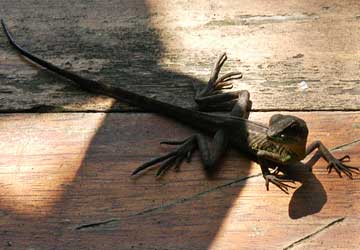 We will go to Costa Rica again some time, we think it is well worth it. But we will go during the dry season next time, and we recommend strongly to avoid going there during the hurricane season (September thru mid November) and also recommend to avoid the tourist tracks completely, it is simplly too touristy there by now, hardly any of the famous places location is really worth your time. We will go, on our next trip, to the Corcovado park on the Peninsula de Osa in southeast, and maybe to the Pacific coast of the Peninsula de Nicoya in the northwest only, and spend all time there. This seems at least currently in 2005, to be the only place to escape the crowd.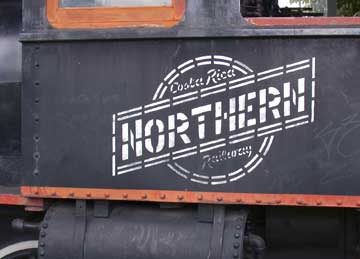 At San Jose, we got to see some railroad action of what is left from the two Costa Rica railroad companies, the FCalP and the FCA, one running from San Jose to Puntarenas on the coast of the Pacific, the other running north to Limon on the coast of the Atlantic. One tour operator runs weekend trips from San Jose to the Pacific port of Puntarenas on weekends.
The Atlantico station is nowadays part of a school of arts, and some cars and locomotives are rebuilt to be rooms where children can draw and paint. We were there for a whole morning, and thought that the museum idea is just brilliant, but wish that a part of the station remain a real railroad station.
More astonishing is the new use of the San Jose area part of the line for some mourning commuter trains in both directions. The trains are usually accompanied by a police partrol in the city center because the line is built right in the middle of the street.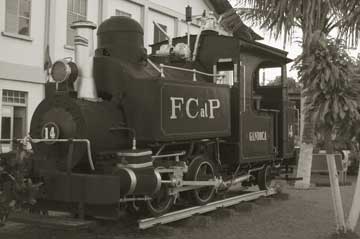 The beautiful Art Deco style station of the Ferrocarril al Pacifico is next to the vast workshops, and next to a large park area which belongs to the railroad station area, and is fenced and guarded. We asked the guards if we could enter and make photographs, and got permission to walk anywhere but inside the shops. We were very pleased (given my poor Spanish), and spent the better part of a rare sunny afternoon at the station just watching or exchanging some words with railroad men.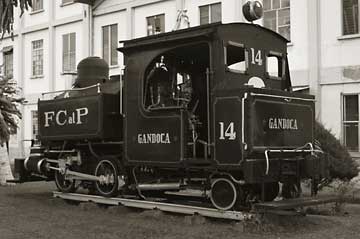 Three old locomotives are on display in the park area of the Pacifico station, two early steamers and one electric. The line to the Pacific was converted to electric traction in the 30ies.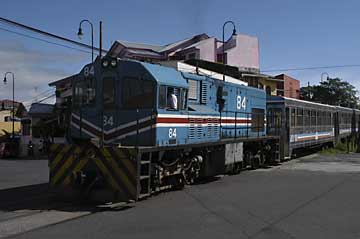 Here is engine #84 pulling one of the morning commuter trains toward the Pacifico station, crossing a busy street crossing in the east of San Jose, between the two main stations in town, assisted by police on bikes. Our hotel happenend to be just meters away from this scene, and i ran there quite a few times ...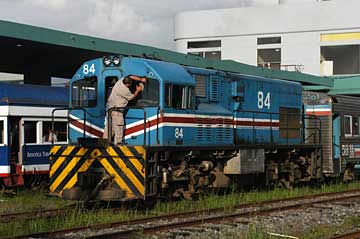 Here is #84 beeing polished after bringing her train in to the Pacifico station.
We look forward to return to Costa Rica.