A trip to the Old Patagonia Express
In early November 2004, we booked a trip to Patagonia, Argentina. The railroad that we wanted to visit there is known as The Old Patagonia Express. It is located in the area of Bariloche.
Trains Unlimited Tours organizes trips for railfans in Latin America. They use mostly chartered trains, which allows to stop trains at interesting locations, and photograph them.

For the second part of out Argentina trip we wanted to drive on the Ruta 40 fom El Calafate in the south near the Parque Glaciares north alon the Andes to Comodoro Rivadavia on the Atlantic coast.

The picture shows one Baldwin and one Henschel engines taking water at Nahuel Pan station, which is 12 miles uphill from Esquel..
---
Buenos Aires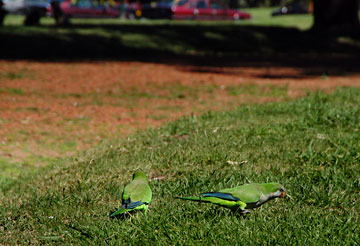 Upon arrival in Buenos Aires, we use the Tenda Leon shuttle service to get to our dowtown hotel, from where we start exploring the Retiro area and it's railroad stations.
Three companies operate the three station, two with broad gauge (the one to the right is all diesel, the line to the left (looking out from the station building to the line) is electric), and one is narrow gauge (the Belgrano Norte, meter gauge).

All tracks go in a wide curve nothwest towards the neighbourhood of Palermo, around Palermos vast park areas and then splitting up on a series of bridges into three different directions. I liked this area with the blooming Jacaranda trees and parrakeets, it is a beautiful neighborhood.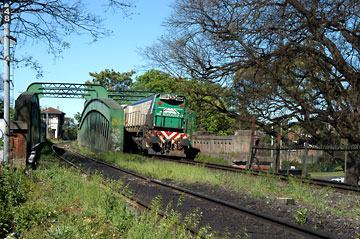 Here's a picture showing the bridges where the lines split. A train of the Metropolitano line passes the bridge.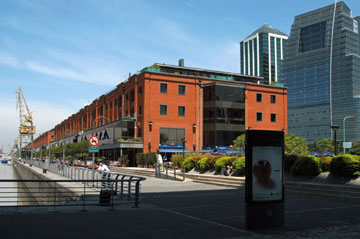 One nice area to visit is the old port area that is now completely renovated, with the old dock buildings turned into appartments and top end restaurants.
We enjoyed a fine dinner in the Cabana Las Lilas - said to be the best steakhouse in th world. We had invited Lisa and Javier, whom we got to know in a travel forum and who had given us valuable information for the Patagonia part of our trip, and spent a truly wonderful evening with them. We do hope we can repeat this - maybe even in some other corner of the world.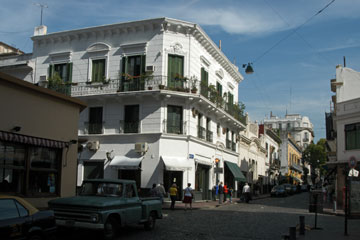 The Boca neighbourhood is one other very nice part of the city to visit. We just had not enough time to explore it fully, but what we have seen was quite impressive. It somehow felt like beeing in a town in France - we just liked to walk around there.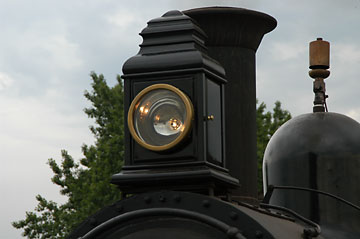 29.10.2005. Lacroze Station, easily reached by the subway line D, is where commuter trains towards Lynch station leave.

At Lynch, the Ferroclub Argentino has their standard gauge repair works. The club has a 2-4-0 fired up for us and switching, along with a proud collection of passenger cars.
Eva Perons private car is also there, and is what railfans dream of.
We get a generous lunch served in a diner car.
---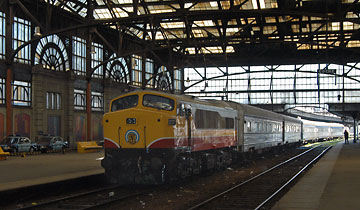 30.10.2005.
Round trip on the "Chessie Train", built in 1947 as a luxury passenger train for the "Chesapeake and Ohio" railway in the United States.
The train never was operated in the States, but bought by Argentina for service between Buenos Aires and the ocean resort of Mar del Plata.
Ferroclub Argentina had taken their Baldwin "Sharknose" diesel to pull this train today. The club even had a car and a light plane to chase the train with video cameras.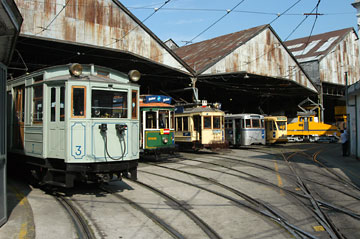 In the afternoon, the wheater cleared up as we visited the Tramway museum at the Metrovias repair shops, many beautifully restored tramway vehicles, were shown in operation, running around a 2 km loop.
The club seems to have a contract with the local area to actually run a historic tram as transportation on what are the remaining tracks of Buenos Aires" once very large streetcar system.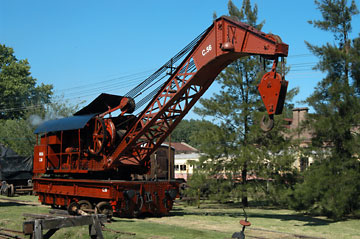 31.10.2005.
Escalada station is another repair works area where the Ferroclub Argentino keeps a vast collection of broad gauge rolling stock.
We can see two steam engines in action, a small OK 0-6-0 and a big Beyer Peacock.
Escalada is also the home of the Baldwin Sharknose, as well as of a Alsthom Diesel Switcher.
The highlight however, is a beautifully restored working steam crane.
A 10 inch gauge park railway is designed as a real raileay system with two stations.
A steam locomobile tape machine was also in operation, as well as a early diesel tractor as can be found on farms.
Something very special was a track measurement equipment car with a mechanical computer for recording various physical parameters unto paper tapes while running over the tracks,
---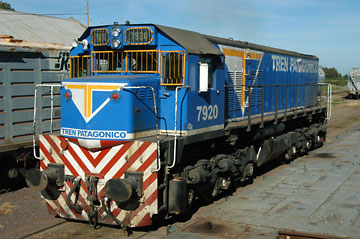 31.10.2005.
Train trip from BA Constitution Station south to Patagonia.
State owned Tren Patagonico send one of their trains from their Viedma base to BA to accommodate the group in a charter train headed towards Ing. Jacobacchi in northern Patagonia.
The first leg is on the main line from BA south to Bahia Blanca.
Way past the commuter train area, our train moves slower and slower, finally the engine stops at a cattle water pond. The train crew gets water buckets out and starts to refill one of the radiator cooling systems that leaked and that had been switched off at high temperature. As we get going again, the leak gets bigger, and the train eventually pulls into a siding at the village of Vilela somewhere in the middle of the Wet Pampa. We wait for a rescue engine, which arrives some three hours later.
The first night in the sleepers, old cars from the spanish RENFE, passes quite quickly. Missing washing facility onboard makes everybody look a bit worn (we had actually expected these cars to be of current standards).
The dining car crew tries to comfort us with very good meals.
There is no regular service between Viedma and Bahia Blanca, but at least there stilla are tracks. They are in poor condition, so that maximm speed is very low at times.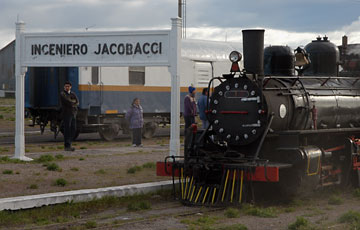 Ingeniero Jacobacchi The trip across the Patagonian plain is of course a bit boring, but finally we approach Jacobacchi in early mornig hours of November 2, 2005. We arrive here at 6:30 am, only two hours late (we expected to arrive a lot later, considering the many delay we'd seen).
The narrow gauge steam train is already waiting for us, for the first leg across the hill country southwest to el Maiten.

We will have to climb from 876 meters at Jacobacchi to 1214 meters shortly after the station at Ojo de Agua, then after Cerro Mesa to 1208 meters again, before we arrive in El Maiten at 700 meters altitude.
---
The Trochita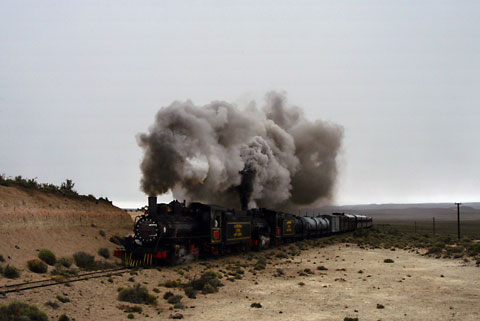 The steam train departs around nine o'cock, after letting the Tren Patagonico depart first. The two trains use a three rail track for the first some 10 kilometers, then the narrow gauge line to El Maiten branches off south while the broad gauge line to Bariloche continues northwest.
The rails out of Jacobacchi have not been used for several years. they are rusty and wet as it rains and snows today.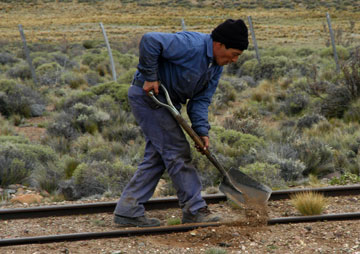 Our two Baldwin engines have considerable difficultyy pulling the train, their wheels slip very often on the light grade. The train stalls very often and looses time to get back to speed. This in spite of the railroaders efforts to sand the rails manually with a shovel, using earth material from just next to the rails.
For us photographers, it means that you can get off the train, walk a bit , make some pics, walk back to the train - all of this while the train is rolling. This is the first time that i can really to do this - i mean, walk off a rolling train, pick some flowers and then get back on again.
On the first steeper grade it becomes obvious that the train is too heavy. The crew decides to 'double the hill' - means that half of the train is pulled up to the station at the top - Ojos de Agua - then the engines return to get the rest of the cars.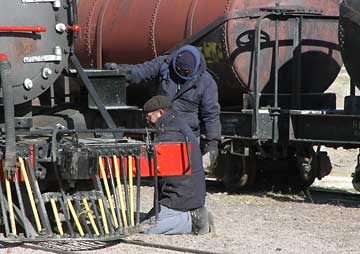 Some minor damage begins to show on one engine, first repairs are made at Ojo de Agua, finally we can continue our trip.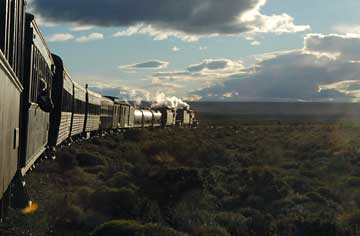 We run into a wonderful sunset with equally wonderful Patagonia cloudshapes. But soon speed is reduced further, it gets dark slowly and we are still somewhere in the middle of nowhere.
Around 9pm we finally arrive at the station of Cerro Mesa, where the engines are taken to the local repair shop. The crew and local staff start to work on the engines. Some local ladies take the business opportunity and start to sell very delicious empanadas and torta frita. Delicious indeed. Repair work seem to be not too trivial, it lasts and lasts. We get to know the stars of the Southern Sky very close, one of the group members happens to be an amateur astronomer. But we do not hear a triumphant whistle from where the repair shops are.

Midnight passes ...

---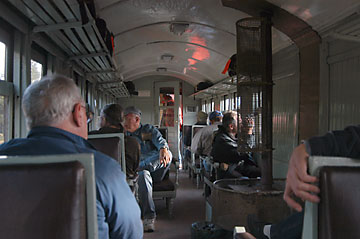 We wait for a long time. We are very happy to find enough wood to heat the stoves in each car, as it gets dark it gets cold, we are reminded that we are in a mountain area. The railroaders had - knowingly - stocked up on wood.
The group leaders try to call our buses to this remote place, which seems to be difficult because of the road condition to up here. But finally the buses get here by about 1:30am.
On the way to El Maiten and then on to our hotel in Esquel, one of the buses has a problem with the radiator, he stops every some kilometers, the drivers of the other buses help him refill fresh water. We finally arrive at the Tehuelche hotel one night late, at 07:30 am, just right for breakfast. We have been up for more than 30 hour, with not much sleep in the past three days, everbody was pretty tired and eager to get under a shower. But after a good breakfast we don't go to sleep, we go the train again immediately ... of course ...

---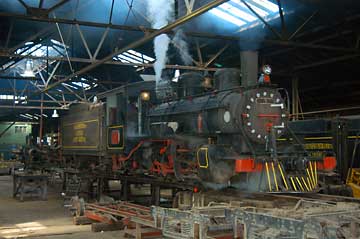 One thing we noticed was that the railroad does not use the airbrakes on their cars. The air hoses remain uncoupled, the engineer brakes the train by applying the reverser and open the steam throttle. This method appears dangerous and can be ineffective, too. We tried to stop the train for photos at a certain spot, but ran past for one full kilometer. And because the engines have only one sand dome with a tube down to the first driving wheel, they have no sand when going backward. So the train could not back up to the photo spot, and we had to look for another one.

The picture to the left shows one of the Baldwin engine beeing serviced after a trip at the El Maiten shops. The rails in the shop are elevate about one meter for easy inspection of the running gear.
---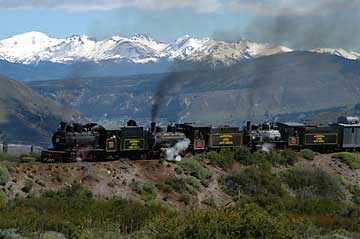 5.9.2004, Esquel to El Maiten. A truly wonderful day awaits us for the run from Esquel towards El Maiten. For some reason we cannot have the formerly promised freight train, but have the two Baldwins and the Henschel for a triple header out of Esqquel up to Nahuel Pan. Four box cars are added to make a mixed consist. In Nahuel Pan the Henschel is taken off the train and returns to Esquel with the box cars to service the local train. We stop for an hour at Nahuel Pan, to water the engines, to havae lunch an make some photos of a track gang and their speeder. We leisurely continue towards Lepa station, and make some photo stops here and there. The cirrus cloud cover that gave us grief on the past days does not show up today, a deep blue ssky with many small cumulus clouds sets the background today, its spring.

---
At Lepa we make the last photos of our train for today. a beautiful reflection in a creek and some green trees at the station house make a very nice scenery for the train. We take the opportunity to return early by bus from Lepa. and let the train continue its trip to El Maiten without us.
6.9.2004, Maiten to Lepa.
Another beautiful day for our run from El Maiten to Lepa where we expect to have a barbecue picnic, an asado. Today we hve only one engine and 4 coaches. The other engine goes to the shops to be in optimal shape for the run bck to Jaccobcchi tomorrow. At Lepa station, picnic tables are set up by local people and railroaders.. Pork, lamb and beef are grilled on a big fire, salad and wine accompany the meal.
---
The railroad has three engines in operable condition. and a fourth one is currently being rebuilt at the El Maiten shops. This seems just not enough for the planned operations for this railroad (the full length of the line is 420 km). It doesn't even seem enough for our planned trips , one engine is assigned to the daily tourist train between Esquel and Nahuel Pan - the first station on the way to El Maiten - and therefore stays in Esquel most of the time.
7.9.2004 Esquel - El Bolson - Bariloche. Late morning start on the bus towards Bariloche. Part of the group takes the narrow gauge train back to Jaccobachi and the broad gauge tren Patagonico from there to Bariloche. With the experience of the first day we decide we do not go with them but take a direct bus to Bariloche. On the way, we have time to visit the town of El Bolson, kown for it's old-time hippie community and market. We were not very impressed ...
---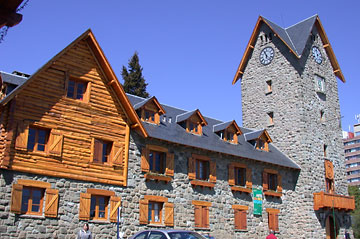 Bariloche

8.11.2004 - Walking on the Circuito Chico.
Bariloche is the tourist central of northern Patagonia. has lots of chocolate shops to offer, and a lot of fine restaurants - the town itself has little to offer. The scenery however is fantastic, so if you can, reserve enought time to explore the area. We decide to fly back to BA instead of using the tain, this gives us two extra days here.
We try to make a boat trip but are to late with our decision, all boats are sold out. We take a taxi to the Puerto Panuelo 25 km away, but cannot get a ride on a boat there either. We decide to go for a leisurely lunch at the splendid Llao Llao hotel (that is one place for your stay, for sure), and then start to walk back as far as we get, along the main road, and finally end up taking a Number 20 bus to return to Bariloche.
We join our travel group for a farewell dinner at a local "parilla". The food is very good, but the wine that the restaurant owner recommends is truly fantastic, (a Lagarde Malbec 2000, see www.lagarde.com.ar).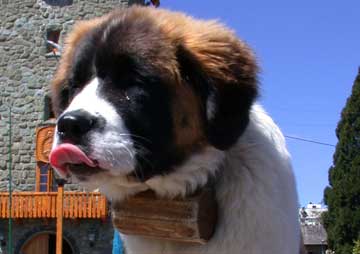 This more or less concludes the first part of our argentina trip, where we could rely on our tour guides. From now on we travel on own. A last very charming sight were the baby St. Bernhard dogs that some locals show to tourists on Bariloche's main plaza - for money, but still charming.
The second part of our trip is a private tour, without tour guides.
This may not sound too important, but for us it means that for the first time in our lives we will have to get around in a very large and very sparsely inhabitated country where the only language spoken is Spanish. And we do not speak too much Spanish ... And that might be a problem.
Now, i have spent a lot of time during the the last four months learning some Spanish, but our experiece was that this is just not enough. I mean we finally got around everywhere we wanted, we spent our nights in private homes and had wonderful conversation in whatever collection of languages that were was suitable, and finally got back home. But I still recommend starting to learn the language well ahead of time (and i will continue my Spanish lessons).
---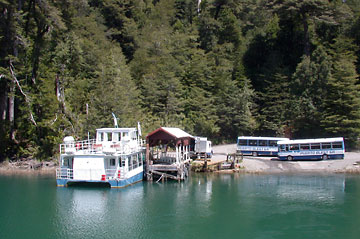 9.11.2004 - Boat trip on Lake Nahuel Huapi.
Today we are more lucky, we manage to reserve a full day boat trip to the Chilean border with the help of a local travel agency. The catamaran type boat leaves Puerto Panuelo in Llao Llao at 10:45 for the one hour trip to Puerto Blest at the end of the western arm of the lake Nahuel Huapi. We can do the trip in beautiful sunlight, seagulls follow the boat, people feed them of course as the do everywhere. We transfer to three buses for the short trip to Puerto Alegre on the shore of Lago Frias. The short trip across this little lake takes only 15 minutes. We arrive at a little port, where a small kiosque sells hot chocolate as their specialty, enriched with a shot of cognac. Here we are very close to the Chilean border, and are not allowed to walk out of the port area. On the way back we stop at the Puerto Blest Hotel for a quick lunch, before we start for a short walk uphill to Lago Cantaros. All of a sudden, we get strong gusts of wind, followed by light rain. It is amazing to see how fast the weather changes here. 16:45 we go back the same route, and end this beautiful day with the usual glass of Sauvignon blanc at the hotel.
---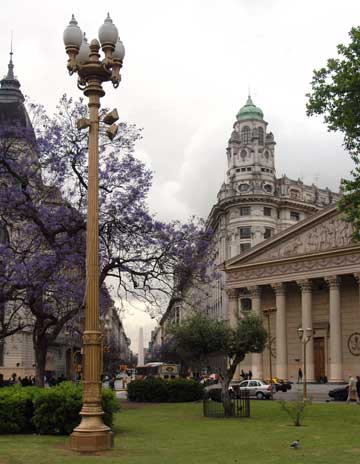 10.11.2004 - Flight Bariloche to Buenos Aires
We manage to get a flight out of Bariloche for the 10th instead of returning by train. This gives us one day more in Bariloche and one day more in Bueno aires. All direct flights to El Calafate are full, so the detour via BA cannot be avoided. But at least the 48 hour train trip with no washing facilities can be avoided. Our tour guides are not particularly happy about this decision, but at least a dozen people take the same shortcut back to BA.

11.11.2004 - Buenos Aires
A visit to the BA Railroad museum, some more walking in town, in the Boca neighbourhood and in Puerto Madero.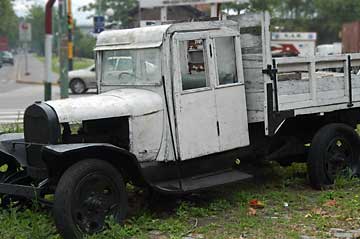 ---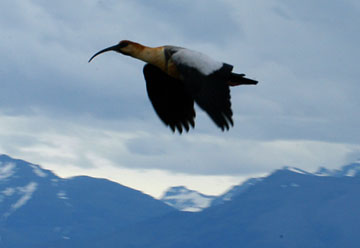 12.11.2004 - Flight from B.A. to El Calafate

A smooth flight, followed by a transfer to the the Estancia Alice, 20 km out of town. This estancia runs a farm type hotel at their former workshop - called El Galpon. I take a long walk around the Laguna de Pajares to see some of the birds and sheep that live on the lake. Its a cloudy afternoon, and it starts to rain soon. I am proud to be able to share this picture of a Ibis flying into a rainy sky with you - i personally have never ever seen one before.

A very impressive live sheep shearing demonstration and and a fine parilla dinner top this day.

We are very impressed by the cordial reception by just everybody in this estancia. If you have a choice - plan to stay at this estancia.

---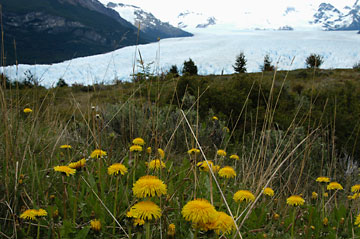 13.11,2004 El Calafate, Perito Moreno Glacier
We drive the 80 km up to the Glacier, in partly rainy weather.
Good photos are not possible in these light conditions. I still take a few, but with not much hope.

The glacier is very impressive, and the sight of dandelion flowers and a glacier is not too common, at least i don't know this from here in Switzerland.
We have to change hotels today - El Calafate really seems to be fully booked - our new hotel is out of town on the Laguna Nimez. This place is all new, and is in an absolutely wonderful nature park area.

---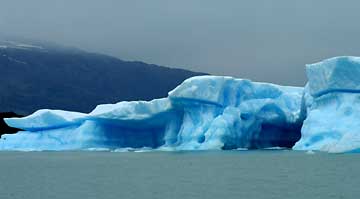 14.11,2004 El Calafate, Uppsala Glacier Cruise
Another partly rainy day for our drive to Puerto Banderas. But even for the early season the boats are full.
We cruise to the spectacular Spegazzini glacier, then on to Onelli landing for a fine lunch at the remote restaurant there. There is enough time for a leisurely walk throug the untouched wood up to a lake where another glacier ends, and sends it's icebergs into the water. The trees in this wood are most impressive, the virtually make us feel the rough conditions out here.

The cruise continues along icebergs of unreal tones of blue to the majestic Uppsala glacier.
---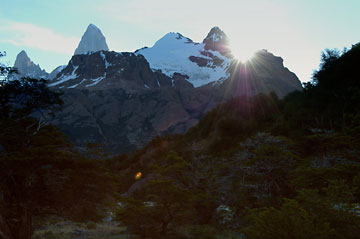 15.11,2004 El Calafate to El Chalten
The car is equipped with two spare tires, and two jerrycans of 15 liters each, full of gas. Our first experience driving the Ruta Quarenta begins where the road from El Calafate to Rio Gallegos meets the RN40. RN40 is unpaved, and it's a bumpy ride north, with speeds no higher than about 80 km/h (on some stretches even that seems real dangerous). We can drive in spectacular weather and spectacular scenery along the lake Viedma to El Chalten. We are welcomed by an absolutely breathtaking sight of the mountains of the Fitzroy range. Our little charming hotel is about 15 km past El Chalten, to the north of the Mt. Fitz Roy (which is pictured here from the hotel garden).

---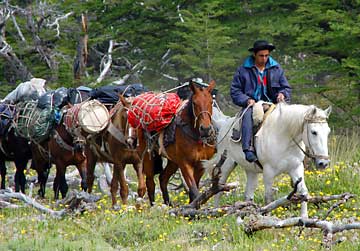 16.11.2004 El Chalten
Our hiking day here. We try the easy standard trail to the Laguna Torre, 6 hours to walk out and back. And we truly regret that we have not reserved more time for this magnificent landscape.
On the way we encounter a local gaucho, who transports supplies to the base camp near the Laguna Torre.
---
17.11.2004: Drive from El Chalten to the Perito Moreno National Park
A planned distance of 600 km over unpaved road. We estimate 15 hours to cover the distance. We decide to leave El Chalten at 5 am. On the way somewhere, i want to make a picture, and pull the car into a side road - BIG mistake, the ground is very soft and we get stuck with the car. We try to get out of the muddy mess, but with no success. Two hours later we see the first car approach on the Ruta 40, we wave, the car stops and two men help us get our car back on the road. This is Ruta 40 code - you help. We are very thankful indeed. Our new friends also inform us that the direct road to Gobernador Gregores is closed due to a washed out bridge. This means 150 km detour for us. Luckily, we've got enough gas for this.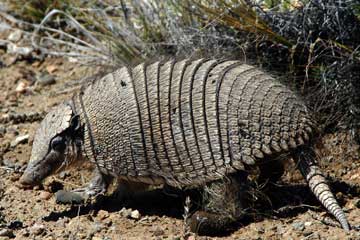 Farther on the way i manage to shoot some close-ups of an armadillo.
In the town of Gobernador Gregores, we change money at the (only) local bank, learn that none of the gasolineras has super fuel in stock, finally fill up with 'normal' and leave as fast as we can.
The road quality is somewhat lower in PN Perito Moreno, it says in my itinerary. What we find there is the perfect playground for an offoad racing club. Very, VERY difficult road conditions. We get stuck again in a deep soggy stretch of way, and can free ourselves only with the help from Edoardo of the Estancia La Oriental, who (luckily, without our knowledge) came to meet us with his 4x4 truck.
Finally, we were just on time for an excellent dinner at the estancia.

Thank you, Edoardo, and 'What a day' ...


---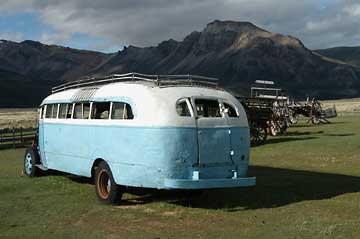 18.11.2004 PN Perito Moreno


We stay for two nights at the estancia and spend a wonderful time driving and walking around the park area, looking for Guanakos, foxes, rabbits, flamingos, condores, other birds and other wild animals. The park really is a lonely area, we did not meet or see anybody else in the whole park.


The condors however seem to spend their time somewhere else, although we obbserve their nesting cliff - condorera - very closely, we can't see any - but we have very windy conditions, maybe that has chased them away.


The estancia has a museum type collection of historic machines and tools, fom water pump to radio transmitters to wagons and this vintage bus here - El Cordillero.

---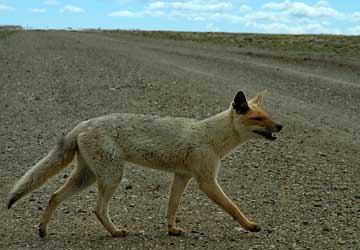 19.11.2004: Drive from PN Perito Moreno to Lago Posadas


With Edoardos help we pour the contents of our two bidones into the tank and leave very early. No road problems this time, we carefully avoid all mud holes longer than two meters. We're lucky to meet this little fellow here along the road, a curious young fox.


Short stop in Bajo Caracoles to fuel up on gas, then we east to visit the Cueva de las Manos. After havinf driven the distance listed in our guide, there is no hint to the existence of caves here. We are on the wrong road, but the scenery is spectacular.


We decide to visit the Cuevas later on our way north, and go back west towards the Lago Posadas and Lago Pueyderron.
---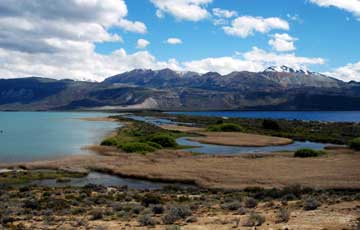 20.11.2004, Estancia Lagos del Lagos del Furioso (Lago Pueyderron). The Furioso river gives the estancia it's name. We are welcomed by Dona Ana on the finest estancia on our trip, and enjoyed all of our days there.The estancia cultivates a very fine cuisine, and has an excellent wine cellar. We got to know some of the best Argentina wines right here. This truly was our favourite place in whole Patagonia.
The estancia is located on the southern end of a narrow isthmus betweeh the two lakes, whose distinctedly different colour really amaze - from whatever direction you look, one lake is deep blue, the other is turquoise.

We spend the time driving and walking up a valley towards where we've just come from - the Perito Moreno national park. It was a long drive, but a hike would only last two days from PN Perito Moreno to Lake Puederron. This would be a wonderful rout fro trekking. The road ends somewhere up in the valley, and we finally cannot conntinue with our car, so we hike around for some hours and then return to the estancia - we absolutelly do not want to miss the dinner here. Thanks again Dona Ana!
---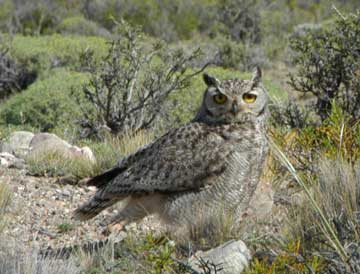 21.11.2004 Lago Posadas to Los Antiguos

The shortcut road to Los Antiguos seems to be closed due to the heavy rain during the past days.

With the road experience of the PN Perito Moreno we believe that we might get ourselves in trouble if we tried to cross the mountain there on a road nobody ever uses ... and opt for the detour route east to the Ruta 40 then north to Perito Moreno and finally west again along the Lago Buenos Aires to the village of Los Antiguos.

---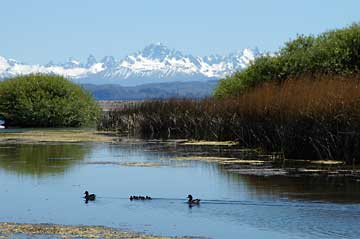 22.11.2004 Los Antiguos

The beauty here in this little town clearly is the lake. We do endless walks along the lake shore and just enjoy the scenery. Our hotel wa initially built by the state for sports training camps, and seems to be the only 'real' hotel in town. Magnificent scenery here, but otherwise not much to see or do ...
---
24.11.2004 Los Antiguos to Comodoro Rivadavia

A smooth drive on the paved highway out to the Atlantic coast, along many oil drilling facilities, and we finally arrive early in Comodoro Rivadavia. We explore the former railroad station and steam engine display, and then enjoy a fine farewell dinner. Tomorrow will be two days of flying home and mediocre quality airline food.


But it was a truly fantastic trip to argentina. We wish we could afford to do this again ...